Grandmommy picked up Jessica on Friday night for their big London Adventure!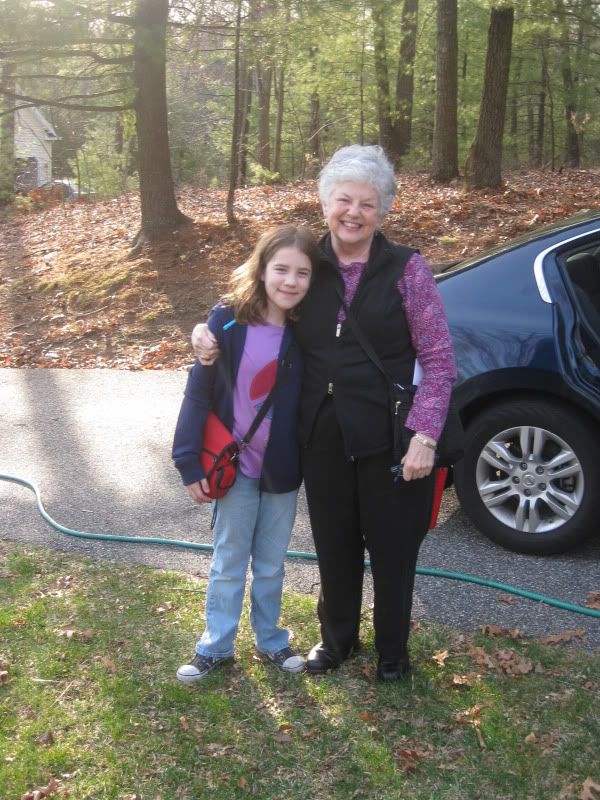 Justin and I decided to have our own mini-adventure while they were gone. We headed out to NYC on Sunday morning. We decided to take the train down- which was very easy and enjoyable. Then we had to take the Subway to our hotel- here is Justin just outside the yellow zone of danger- but he really liked to keep a toe or two inside the yellow zone of danger.
Here is our little hotel room. We got a great deal on Hotwire.com, it was small but in a great location.
See? There is Radio City Music Hall and way down there you can see the theater for Wicked.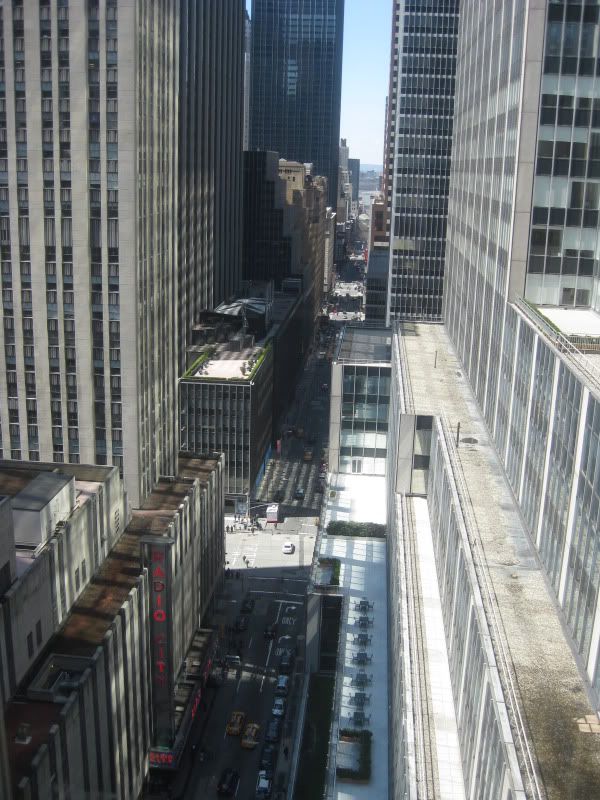 Our first stop was Nintendo World. Our hotel was only 2 blocks away from this fabulous place and Justin has been asking to go back since he was first there almost 2 years ago. He REALLY wanted a Luigi hat to go with his Mario hat but sadly they are no longer selling that item. We played some Donkey Kong Country Returns and a little of the new Kirby game.
And he bought a Mario too..
Then we headed to Times Square- after our lunch of pasta a Sbarro- just like Michael Scott. We went to M&M world and Justin really like that. Maybe because I got suckered into paying WAY too much for some M&Ms.
Next stop Toys R Us. We did ride the Ferris Wheel that is inside the store and got this cute pic- taken by the young girl who was riding with us.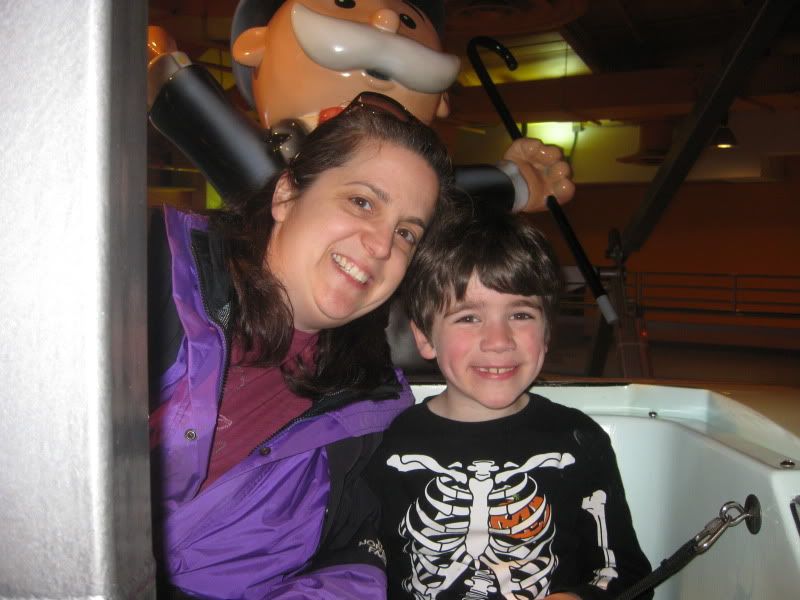 Our hotel offered free bottles of water- which we thought was cool. You grab an empty bottle and then you fill it yourself- and refill it yourself.
We went to dinner at Pasta Lovers! I restaurant made for Justin.
Monday morning we headed out to go to the Museum of Natural History- but window washers were quite facinating.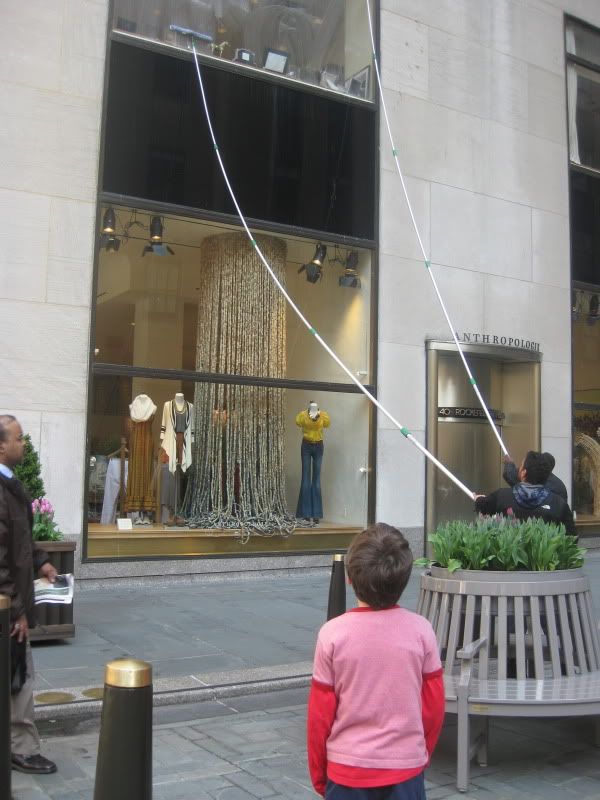 We took the subway again. Justin loves spinning around the pole in the middle- well until he noticed that the gentleman next to me was playing some game on his phone....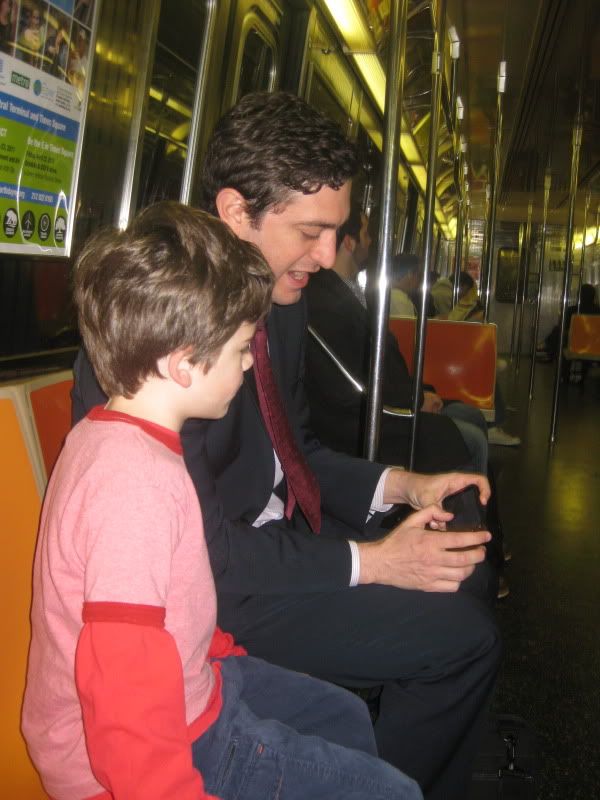 We got to the museum at 9:40 but it didn't open until 10 so we went across the street to Central Park to play around. And this is where Justin's cooperation and interest in posed pictures began. woo hoo!
Then we went into the museum. This was Justin's idea- he wanted it to look like he was holding up the exhibit.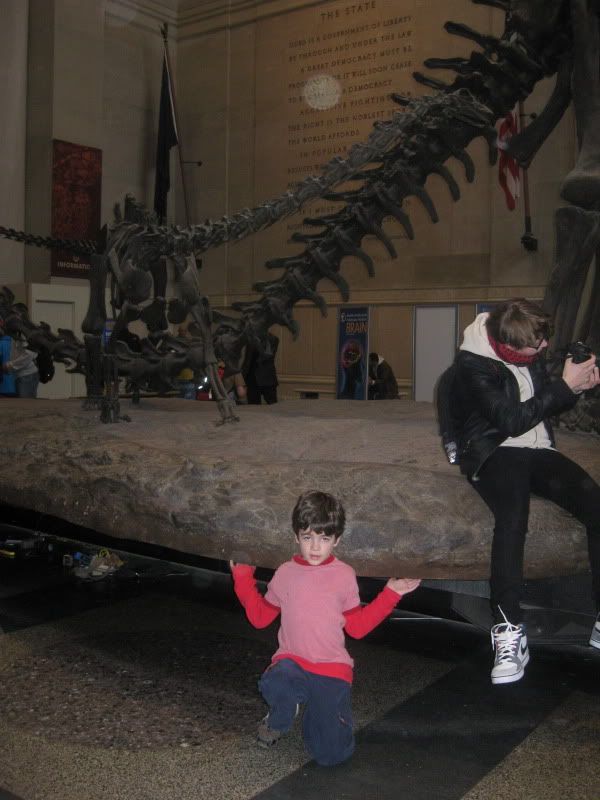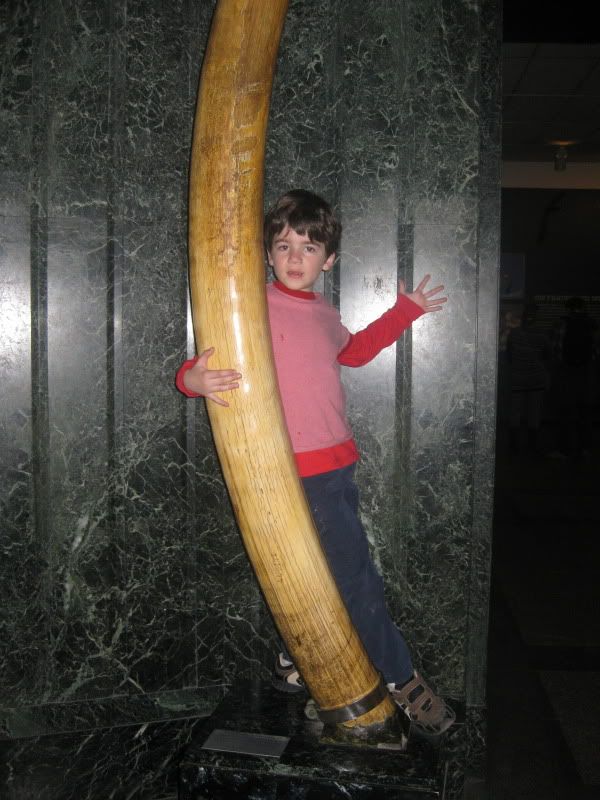 Then we went to go see Dum Dum from the Night at the Museum movie. We did not bring him gum gum.
After we left the museum we headed into the Park. It was a such a beautiful day and the park is just gorgeous and so many people were out. Justin had to go to the bathroom so we were consulting the map to find a restroom, when one of those bike guys came up and offered us a ride. Justin jumped in and then the guy announced that it would only cost $7. Justin was shocked that we would have to pay someone. We agreed and I jumped in too- it was a quick ride but a nice way to see the park.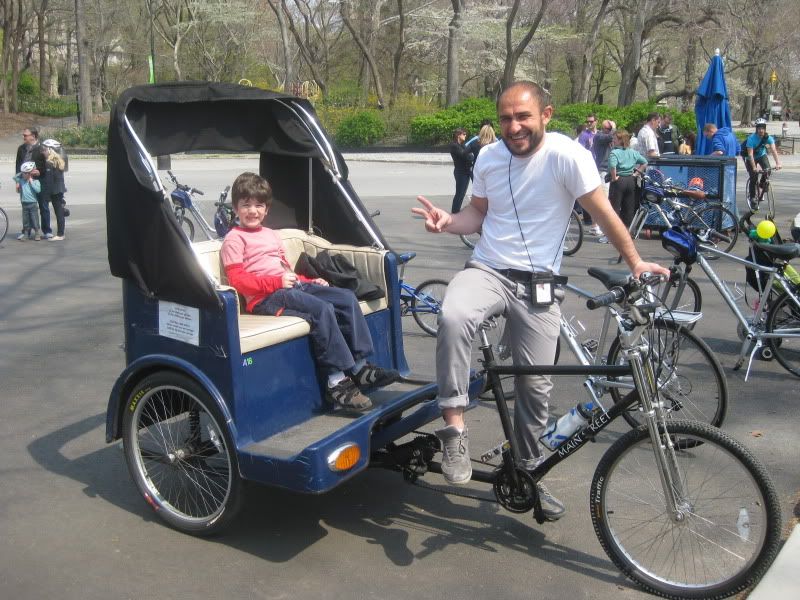 We continued our walk across the park towards the Central Park Zoo. We stopped for a Spongebob frozen treat from an ice cream cart. We came upon the statue of Balto. Justin knows that Jessica loves the story of Balto- so he wanted to have his picture taken here as well.
[notice how weird Justin's pants look? it seems he put them on backwards that day.]
We got to the Zoo and decided to go to the Children's Zoo first- which was a bit of a playground and a bit of a petting zoo. Justin wanted his picture taken EVERYWHERE- this is only a small sampling of the pictures I took. I think this might be one of my favorites.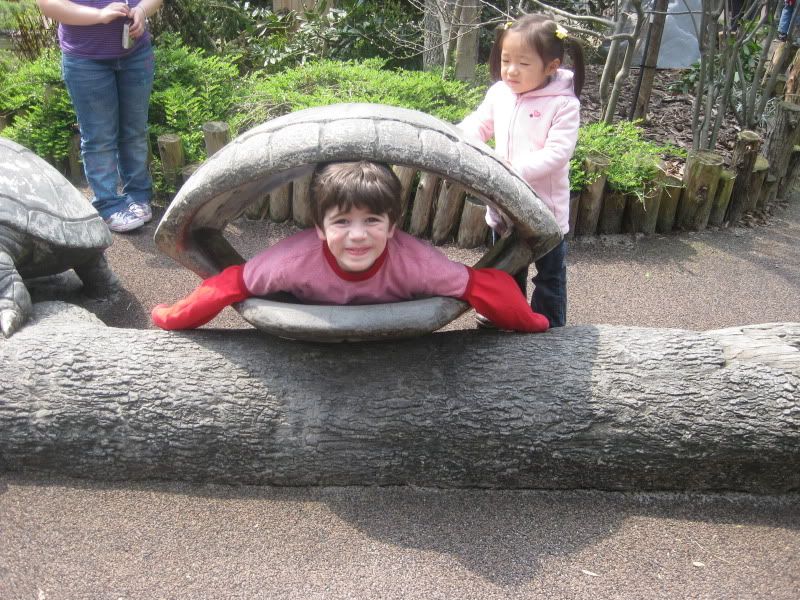 Finally we left the Children's Zoo and headed to the real zoo. Justin took this picture of me!
Justin took this picture of one of the see lions.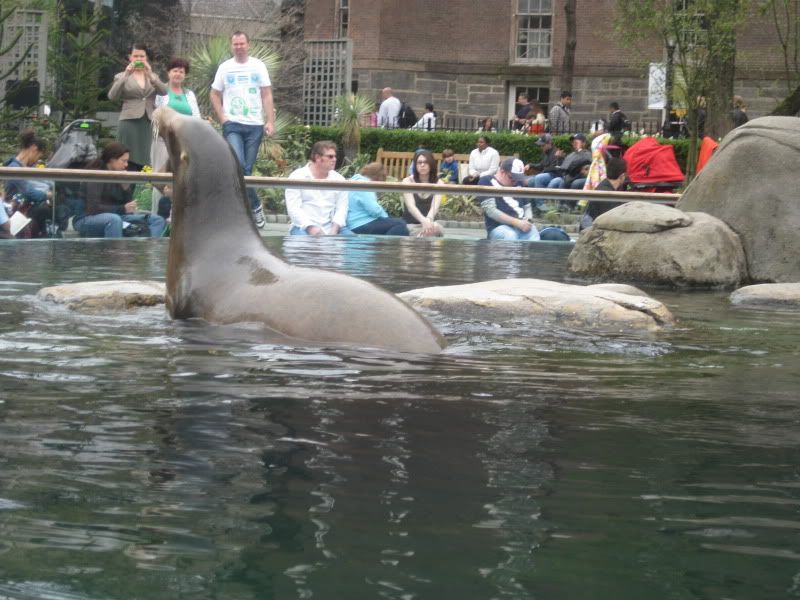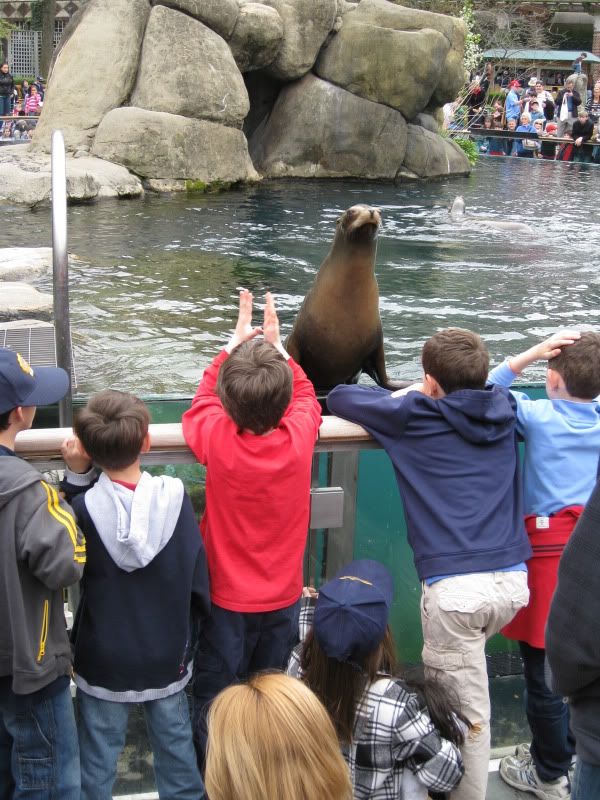 Justin in the Penguin Exhibit.
I just love this image- the zoo and park right in the middle of this incredible city.
On our way back to the hotel we came across this bizarre sculpture. While officially unnamed it had the name (teddy bear/ lamp) next to the title- yeah. But someone wanted to pose!
Here we are at Penn Station waiting for them to announce from what track our train would be departing.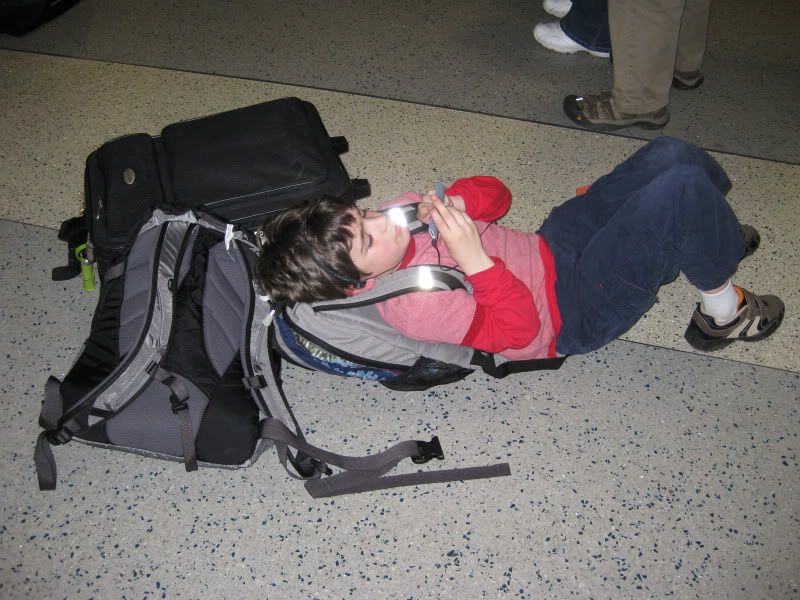 We had a good time. But there are a lot of Don'ts in the city. Don't run ahead. Don't touch everything in sight (like running your hand along every building, car, pole etc). Don't talk to everyone and share your inappropriate opinions (you know like telling strangers they shouldn't smoke). He really liked hanging in the hotel and watching Dora at night. I would say M&M world and the Zoo were his two favorite things we did.

But he is back in school for 3 days this week!